2012-05-10
Farewell to KMB Non Air-Conditioned Buses
Following the retirement of the last batch of non air-conditioned (non AC) buses on 8 May, all KMB bus routes now provide a full air-conditioned service. At today's press session, the Company exhibited the last two models of non AC buses and invited relevant staff members to share their experiences and anecdotes of driving and repairing the non AC buses. KMB also plans to keep each of the last two models of non AC buses as pieces of living history to help chart the development of its bus fleet.
Since its establishment in 1933, KMB has been introducing the latest bus models to upgrade its services. At the early stage of service, KMB had only 106 small single-deck non AC buses in its fleet. Due to the shortage of buses after the Second World War and Japanese occupation, KMB even converted some trucks to carry passengers. Initially there were only single-deck non AC buses in service, offering first-class and second-class seats. However, as the population soared, KMB supplemented its fleet with the first-ever double-deck non AC bus in 1949, becoming in the process the first bus company to introduce double-deckers to Hong Kong. In the 1970s, fare-collection boxes were installed in place of bus conductors, and since then the bus captain has been in sole charge of the bus. Non AC buses have been progressively replaced following the introduction of KMB's first air-conditioned bus in 1988. KMB single-deck non AC buses were fully retired in 1992, and this month KMB's non AC double-deck buses followed suit.
The last batch of KMB's non AC buses consists of two models, the Dennis Dragon 11M and the Volvo Olympian 11M, which were introduced to Hong Kong in 1986 and 1994 respectively, with a total of 369 buses and 30 buses operating at their peak. The buses feature a red top, milky-yellow livery, brown seats and windows that can be opened and closed.
Besides the two buses that will be kept for commemorative purposes, other retired non AC buses will be put on tender for sale. According to the terms stipulated in the tender document, all scrapped buses sold cannot be re-licensed for operation within the Hong Kong Special Administrative Region.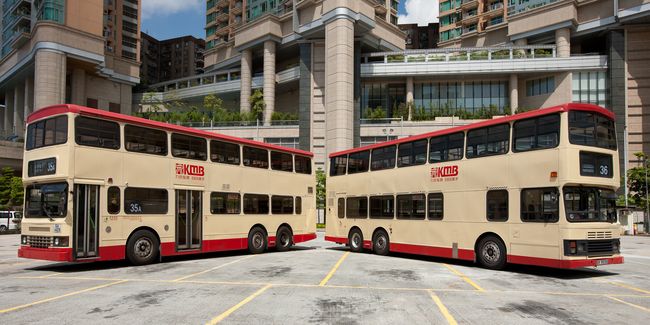 Length x Width x Height

:

11000 x 2450 x 4400 (mm)

Engine: Gardner 6LXCT

;

Gardner LG1200

;

Cummins LT10

;

Cummins LTA10

;

Gearbox: Voith851.2

;

Voith863

;

ZF4HP500

Length x Width x Height:

11160 x 2450 x 4500 (mm)

Engine

:

Cummins LT10 Euro I

Bus Body

:

Walter Alexander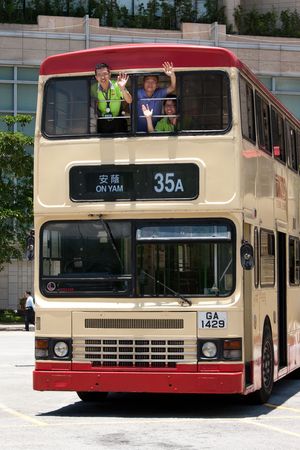 Bus Captain Wong Wai Kei (left), Senior Skilled Mechanic Au Ka Keung (middle) and Bus Captain Lam Yue Man(right) said farewell to non air-conditioned buses.