2010-11-16
"FRIENDS OF KMB" won Championship in "2009-2010 Best Corporate Volunteer Service Project Competition"
The volunteer service project "Hong Kong, My New Home" run by "FRIENDS OF KMB" (FRN) won the championship in the "2009-10 Best Corporate Volunteer Service Project Competition" organised by the Social Welfare Department. FRN has also received the "2009 Award of 10,000 hours for Volunteer Service".
The "Best Corporate Volunteer Service Project Competition" aims to recognise the contribution of various corporations in volunteer service, as well as stimulating innovations in volunteer service, and to encourage more corporations to participate in the volunteer movement by using social resources to help create a caring and harmonious society. FRN's project "Hong Kong, My New Home" won the championship among a number of entries in the competition, reflecting the fact that the efforts of the club in promoting volunteer service has been widely recognised.
FRN, in collaboration with the International Social Service - Hong Kong Branch, initiated the "Hong Kong, My New Home" project in August last year. It was aimed at helping new immigrants and low-income families gain more understanding of everyday life in Hong Kong, increasing their sense of belonging and encouraging them to observe civic duties and participate in volunteer service. In the seven activities organised, participants visited various landmarks and historical sites in Hong Kong. They learnt more about public transport and environmental protection, as well as experiencing the joy of becoming a volunteer. All this helped them become better acquainted with Hong Kong, thus building a more harmonious and integrated society.
"FRIENDS OF KMB" is a volunteer organisation established by KMB. Besides encouraging members to be self-disciplined and to help and serve others by observing simple civic duties when travelling on KMB, the club organises various charitable events and social service activities for its members with the aim of promoting the spirit of social concern and care for others. Currently, FRN has more than 3,200 members.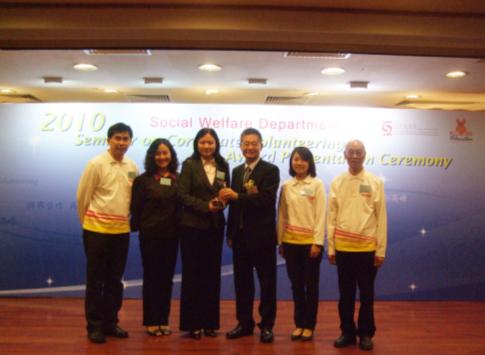 Ms. Winnie Ho, KMB Corporate Affairs Director (third from the left), and representatives of "FRIENDS OF KMB" received the award from Mr Cheung Hing-wah, BBS, Deputy Director of Social Welfare (Services) (third from the right)